24/7 Accident Towing
We operate around the clock to ensure that we are there when you require us

Experienced Drivers
All of our drivers are police cleared, trained in first aid and have many years of driving experience. Our drivers understand how stressful it is when you have an accident


All size vehicles
We can tow any type of vehicle from trucks to motor bikes and everything in-between

Specialising in prestige motor vehicles
We take the utmost care and have the correct equipment to get the job done

Insurance towing
We bulk bill insurance companies directly to take the hassle out of insurance claims

General/Breakdown towing
Flat tyres, breakdown and trade towing. We tow anything day and night

Motorcycle Towing
Crane, cradles and wheel strapping to ensure safe towing of motorbikes

Carpark Towing
Low clearance tow trucks that can enter carparks and retrieve vehicles

Lockouts
We hold all the specialised tools to enter vehicles without the keys

Salvage Specialist
We are trained to retrieve vehicles safely whether it be car vs house, vehicle roll overs, car vs trees, vehicles in
pools/lakes/rivers to vehicle stuck in sink holes we've done it all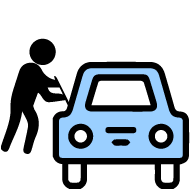 Stolen Vehicle Recovery
As we are all police cleared so we can retrieve vehicles and preserve the evidence

Flat Battery Jump Starts
Jump packs onboard each vehicle. We know how to jumpstart the most complex vehicles

Tilt Tray Service
Modern and functional tilt trays to ensure vehicles are transported elevating gear box pressure

Locations
Four convenient vehicle storage and collection locations throughout Perth
TOWING DEPOT OPENING HOURS
Once your vehicle has been towed, it will be removed to one of our secure storage facilities known as a towing depot. This is where your vehicle will be assessed and stored until it is repaired.
The towing depots are unattended and are by appointment only. Appointment times are Monday to Friday between 9am and 3pm.
Please contact the following telephone number 0401 581 135 to arrange an appointment.